We are targeting multiple market segments in the life sciences with our magnetic detection platform.  These include instrumentation and reagents for clinical diagnostics, drug delivery, drug discovery, and basic research.  
Our initial focus is on clinical diagnostics as this is where there is an unmet need due to the inability of existing instrumentation to provide clinically valuable information in critical areas.
1.  CLINICAL DIAGNOSTICS
Applications in clinical diagnostics leverage the ability to perform extremely sensitive in vitro assays (diagnostic tests) in a rapid, "mix and read" format.  A key benefit includes the ability to measure directly in whole blood, which saves time and reduces safety concerns by eliminating the usual blood processing steps prior to assay preparation.  
Key applications in clinical diagnostics include: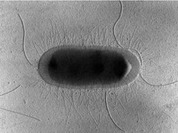 Infectious disease
- Bacterial infections.  Early detection in blood samples of bacterial infections in the bloodstream leading to sepsis (we have demonstrated detection of both E. coli O157:H7 and S. aureus, including a 15 minute assay directly in whole blood).
- Viral infections.  The instrument can perform over 1,000 tests per hour making it well-suited to dealing with widespread outbreaks and large scale testing.  Reagent costs using magnetic nanoparticle labels are inherently low.
- Fungal infections.  High sensitivity can help identify life threatening infections at early stages.
Cancer
- Minimal residual disease.   Detection of minimal residual disease soon after cancer treatment to determine if cancer cells are present could enable therapies to be adjusted or changed much sooner by measuring very low numbers of cancer cells.  We have demonstrated rare cell assays with detection down to 40 cells and expect signficant further improvement.
- Circulating tumor cells.  Detection of rare tumor cells circulating in the peripheral blood of cancer patients can help determine metastasis and provide information aiding the prognosis and treatment of cancer.
Stroke
 - Markers for early diagnosis and treatment (we have demonstrated detection of proteins to attomole sensitivity).
2.  DRUG DELIVERY
- Efficiency of intracellular drug delivery (we have demonstrated intracellular detection).
3.  DRUG DISCOVERY
- High content assays that combine high sensitivity, speed, along with ability to measure kinetics and binding.
4.  BASIC RESEARCH
- Rapid, ultra-sensitive assays for basic research;  much faster and more sensitive than ELISA, can also measure cell assays, nucleic acid assays with one instrument and reagent platform.  In a sandwich immunoassay format we currently detect IL-6 down to 0.4 pg/ml.