We have made major improvements to the magnetic detection instrumentation over the past decade.  Our third generation instrument is designed for operation in a hospital environment.  This bench top instrument utilizes our patented high temperature SQUID magnetic sensor and the cooling is entirely transparent to the user due to the incorporation of a small cryorefrigerator.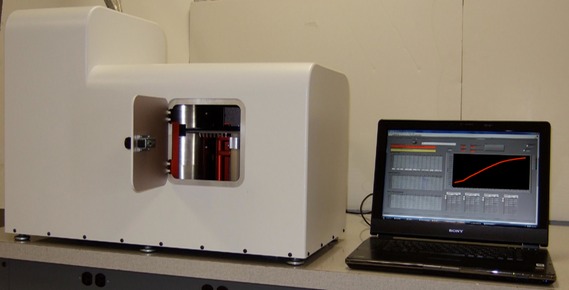 The innovative design allows the room temperature samples to be brought very close to the cooled high temperature SQUID sensor chip (operating below 77K), allowing for good magnetic coupling of the signal generated by the magnetic nanoparticles to the sensor.  The magnetic sensor is also located inside small magnetic shields to prevent unwanted external magnetic noise sources from interfering with the sensitive measurements.
This magnetic assay instrument can measure 50 samples per minute, is easy to use, and requires very little training.  The instrument design has similarities to a disk drive, where the samples are magnetized (similar to a "write head") and rotated over the "read head", namely the ultra-sensitive SQUID magnetic sensor chip.  The samples are loaded and measured in removable strips of 8 microwells.  Assays can be prepared in a 96 well format.

Photo of custom designed 8-well test strip that enables magnetic assays to be prepared in a 96 well format using 12 strips.  The inexpensive multi-well test strip was specially designed for low magnetic background and loads into measurement system in seconds.